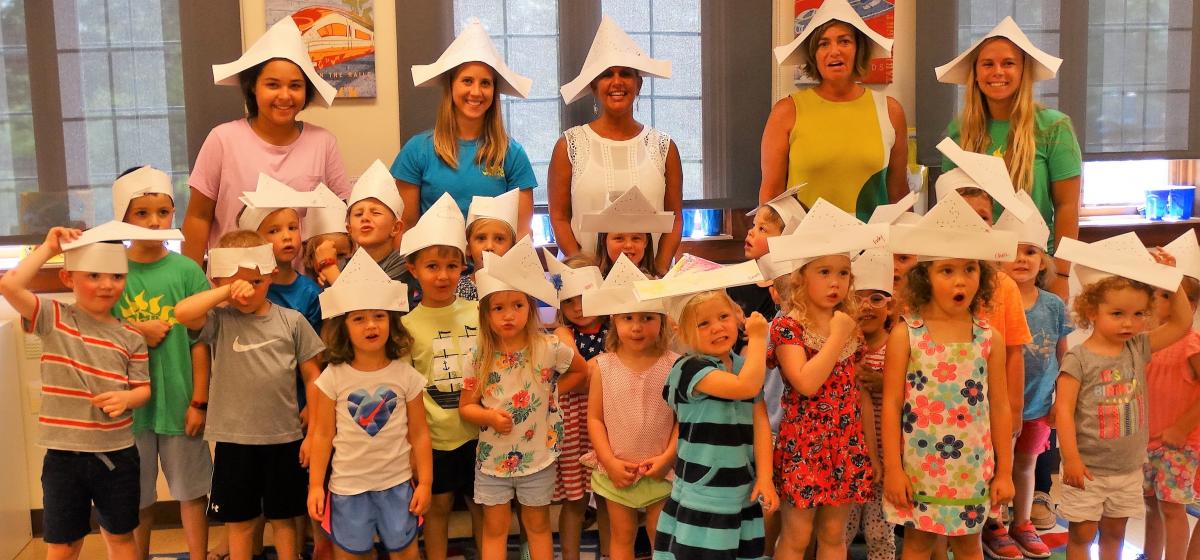 Overview
St. Ursula Villa is committed to providing childcare after school to those who depend on us. The Aftercare program promotes academic, social, physical, and emotional development in a structured and nurturing learning environment. Traditional kindergarten through 8th grade students follow a daily schedule that includes a period of homework completion, snack, physical exercise, and socialization. Preschool and Montessori Kindergarten students follow a daily schedule that includes circle time, a craft, snack, physical exercise, and socialization.
Aftercare is open to St. Ursula Villa full day students from 3 years old through 8th grade and operates from 3:00 – 5:30 p.m. on days school is in session. Aftercare staffing, program hours, student groupings, and participation policies have been modified this school year to ensure compliance with pandemic-related health and safety guidelines.
To ensure proper staffing and advanced planning, families are required to preregister for Aftercare by Monday, August 23, 2021 via the Camp Villa portal here. Families may choose to register for the fall term (August 30-December 17), for the spring term (January 3-June 1) or for the entire school year and can select either 3 days a week (Monday-Wednesday) or 5 days a week.
To the extent that space is available in the program, we may be able to accommodate later enrollment for families who make a 3- or 5-day commitment; if space is not available, students will be added to the Aftercare waitlist.
Families are no longer permitted to drop-in to Aftercare/Homework Club. This means that we cannot accommodate last minute requests or occasional use of the program.
Fees
Monthly billing will be based on registration, not attendance. Parents may pay through FACTS. Students may be excluded from the program and report cards may be withheld if the balance due is more than one month late. Fees for the 2021-2022 are as follows:
3 days a week until 4 pm: $12/day, $36/week
5 days a week until 4 pm: $12/day, $60/week
3 days a week until 5:30 pm: $25/day, $75/week
5 days a week until 5:30 pm: $25/day, $125/week
There is a multiple student discount for families with more than one student in Aftercare. Each student after the first to be in Aftercare from a household will be billed either $9 for the first hour or $16 for 3:00-5:30 p.m.
Locations
Traditional kindergarten through eighth grade students will not travel to the Manor House for Aftercare as they have in years past; Homework Club will stay in the main school followed by outdoor play on Villa Way or the Green Playground. Outdoor play guidelines will mirror those outlined for recess during the school day.
Preschool and Montessori Kindergarten: will use the Manor House Community room for circle time, snack, and crafts as well as for inclement weather; they will use the Blue Playground and outdoor space in front of Manor House for outdoor play.
Traditional Kindergarten through 3rd Grade: Homework Club 3:00-4:00 p.m. in a main school classroom followed by outdoor play on the Green Playground or Villa Way from 4:00-5:30 p.m.
4th through 8th Grade: Homework Club 3:00-4:00 p.m. in a main school classroom, followed by outdoor play on the Green Playground or Villa Way from 4:00-5:30 p.m.
Calendar
The Aftercare schedule follows St. Ursula Villa's school calendar. If school is canceled for emergency (e.g., a snow day), Aftercare is also canceled for that day. Fees are not charged for any day canceled by St. Ursula Villa due to an emergency or remote learning. Aftercare will not be available on these dates when school is in session:
Halloween when it falls on a weekday
The last Friday before winter break (December 17, 2021)
May Party (date TBD)
The last day of school (June 2, 2022)
Student Pick Up
Students are released only to the custodial parent unless the custodial parent has given written permission designating the adult to whom the student may be released. Students are to be picked up by either 4:00 pm or 5:30 p.m. each day.
Pickup locations are as follows:
Preschool and Montessori Kindergarten: pick up behind the Manor House at the Blue Playground or Manor House main entrance for inclement weather
Traditional Kindergarten through 8th Grade: pick-up at 4:00 at Villa Way or 5:30 p.m. at the Green Playground. T
Please note additional fees will be charged for late pickups:
For those registered only until 4:00 p.m., late pickups will result in a charge of the daily rate of $25.
For students staying until 5:30 p.m., a late fee of $1 per minute is charged for late pickups after 5:30 p.m; the fee covers the cost of two staff members that must remain with the student.
Teachers are not able to walk students to sports practice or other after-school activities. Families are encouraged to talk to the coach or group leader about alternative arrangements.
Behavior Expectations
Students are expected to follow school and classroom behavior guidelines and policies outlined in the St. Ursula Villa Student Handbook. Please note also that students are not permitted to bring toys/stuffed animals from home. Cell phones must remain in students' bags unless they need to verify a ride home. Computers are only permitted for middle school students during Homework Club and for homework purposes only (i.e., not to play games or watch videos). Students who do not comply with these expectations may be asked to leave the program at the discretion of the administration.
Homework Club (Traditional Kindergarten through 8th Grade)
The first hour (3:00 – 4:00 p.m.) of Aftercare is devoted to the completion of homework for students in grades Traditional K-8 and is referred to as Homework Club. This is a quiet time when students work on homework under the supervision of a teacher or teaching assistant in the classroom.
Please discuss the following rules with your child:
Homework Club is to be utilized as an hour of quiet study. Talking, cards, or games are NOT appropriate activities.
Students are to come directly to the classroom upon dismissal, where they will wait quietly for the teacher in charge that day.
Between 3:00 - 3:05 p.m. students should check to see they have all the materials they need for their homework. If they need to use the restroom, it is to be done before they come to the classroom.
Students will be given a snack during the first 10 minutes of Homework Club. Snacks will be individually packaged. Students will wash hands or use hand sanitizer before eating.
Students will remain at their assigned desk from 3:00-4:00 pm. Desks will be 6 feet apart and all students will wear face coverings/masks. Desks are sanitized between use.
Homework Club is a time for independent study and no tutoring will be done by the teacher in charge.
Students in Homework Club need to pack their own supplies including pencils, pens, etc. or completing homework. Shared supplies will not be provided this year due to health and safety protocols.
Teachers may bring students outside for Homework Club depending on the weather; if that happens, teachers will supply clipboards for students to use and these will be sanitized after each use.
Any student disturbing the quiet of this hour will be given a warning, which must be signed by the parent and returned. If the problem happens again, a second warning of the same nature will be assigned. A third incident will result in the exclusion from Homework Club for the remainder of the year.
Questions? Contact: Nicole Rouse, Aftercare Director, at or 513-533-7625.