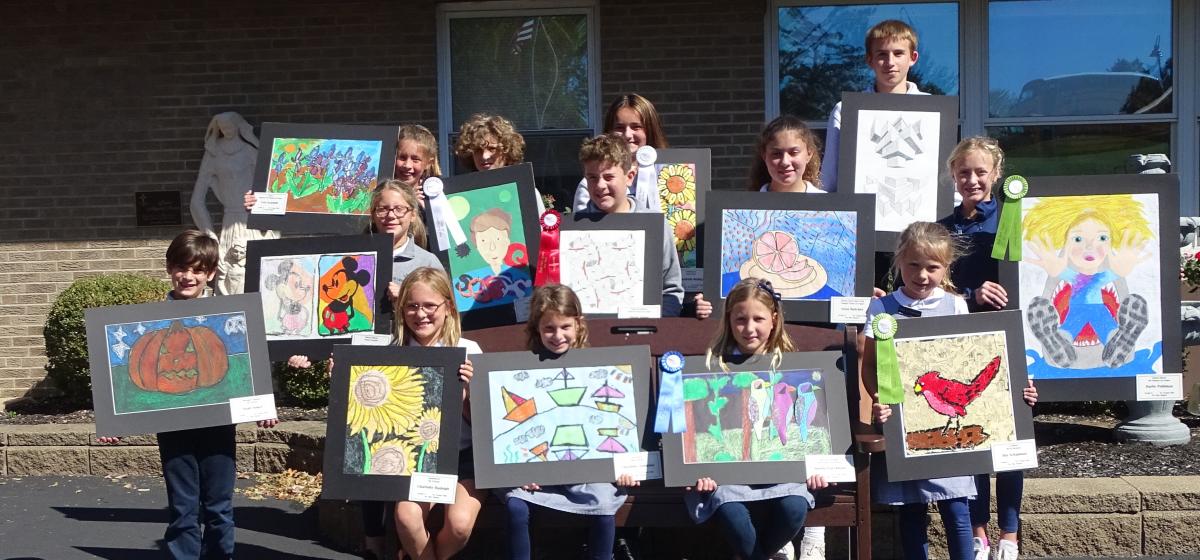 Art Program
In art class the students learn an appreciation of the arts, develop the ability to respond verbally to express ideas about art, and explore associated historical and cultural aspects. They become familiar with the elements and principles of art and utilize them as they work with a variety of media to create artworks. Art media offered include drawing, painting, clay, fabric/fiber, printmaking, mixed media, sculpture, and more. All objectives are used at every grade level with increasing complexity as the ability and maturity of the students advance. At all levels, freedom of expression is promoted and students are encouraged to work in an individualistic manner.
Early Childhood
The Preschool and Kindergarten curriculum includes looking at important artworks from various time periods and learning how to talk about art. Basic elements of art (shape, line, and color) are focused on as part of the beginning foundation of a quality art education. Inspiration is often found within the students' environment.
Primary (Grades 1-3)
As students mature, more complex ideas are presented. Along with looking and talking about artworks from art history, students begin to interpret artistic meaning and see art as a means of communication. The elements of art are expanded upon, and some basic principles of art are introduced. Multicultural artworks are included, often integrated with their classroom studies.
Intermediate (Grades 4-6)
Increasingly complex ideas are included as students are involved in lengthier discussions about art. They are asked to interpret art and examine how an artwork is composed, utilizing the elements and principles of art. This knowledge contributes to their creative expression as they apply what has been learned to their own art making experiences. Materials and tools become more advanced as they explore new avenues of expression.
Junior High (Grades 7-8)
Contemporary artworks, as well those from art history, are looked at in more depth, as students continue to build their skills and knowledge. More unusual art materials are explored and major clay and fabric/fiber projects are included at both levels. Students utilize their knowledge of the elements and principles of art as they create individualistic works. In addition, during the third quarter, 8th grade students design and create the set design for the 8th grade musical production.