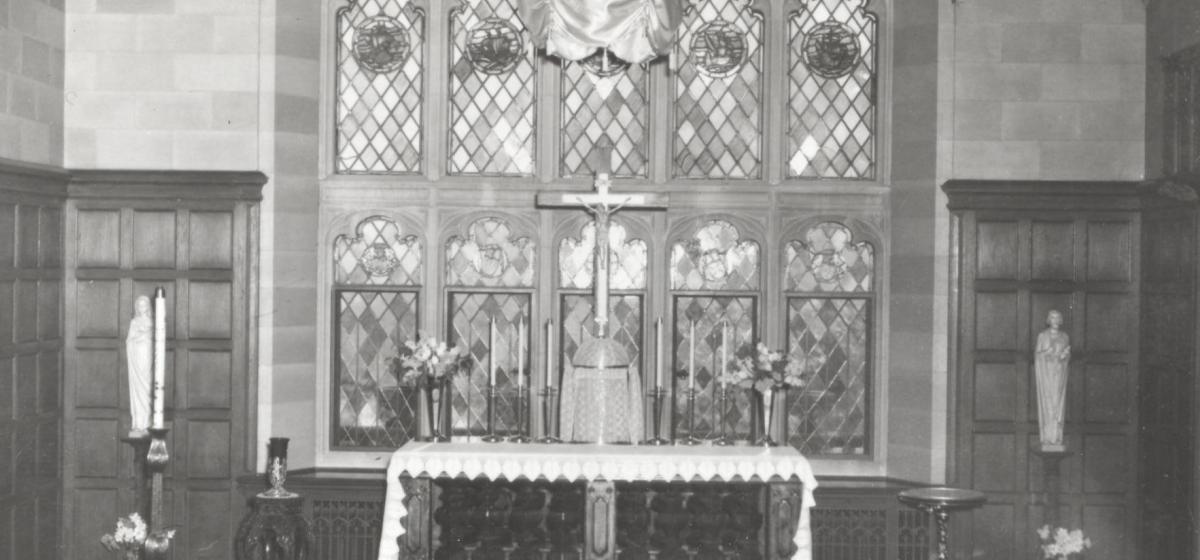 St. Ursula Villa History
In 1910, at the invitation of Archbishop Henry K. Moeller, Mother Fidelis Coleman and a small group of 20 sisters arrived in Cincinnati to begin the task of educating the city's youth in the Ursuline tradition. That first year, 63 pupils enrolled at St. Ursula Academy in Walnut Hills. The grade school was co-educational while the high school was for girls only. In the ensuing years, guided by the writings of St. Angela Merici, the Sisters established a reputation for academic excellence.
In 1960, in order to accommodate continued expansion, the Sisters bought the R.K. LeBlond estate in Mt. Lookout, which had been willed to the Archdiocese of Cincinnati. Archbishop Paul F. Leibold formally blessed the new property on January 2, 1961. The following day, eager 7th and 8th graders began attending classes in the Manor House of St. Ursula Villa School. With Sister Mary Lawrence Hartmann as the first principal, a new multipurpose building was constructed in 1962. Increasing enrollment necessitated the building of additional classroom space in 1971.
Today over 465 children from preschool through eighth grade are enrolled at the Villa. We have modified the buildings and grounds of the 20-acre estate to provide for the needs of an active student body. Our school facilities now include preschool and kindergarten classrooms, a multipurpose room, science labs, a library, a gym, athletic fields, extensive lawn and wooded areas, and well-equipped playgrounds. Our Primary building addition opened in August 1999 to accommodate Grades 1 to 3 in six classrooms and a gym. In 2009, we completed construction on the Villa Way, providing outdoor education and playspaces, and air conditioning was installed in the main school building. In 2014, St. Ursula Villa opened our new Early Childhood wing to serve students ages 3-5, and launched a Toddler program to meet demand. The 2015-16 school year began with a newly-constructed Junior High addition and relocated and modified Main School classrooms.
Over the years, expanded enrollment has led to an expanded faculty, including art, music, foreign language, physical education, Learning Enrichment teachers, Outdoor Education coordinator, Technology Coordinator, Library Science instructor, speech pathologist, counselor, and learning and remedial specialists. We also offer after-school care and summer programs.
Villa parents are committed to various volunteer activities, which continues to provide a spirit of community within our school. In the early 1990's, both the Sisters and parents saw the wisdom of transferring the school's governance to an independent Board of Trustees. This development gives St. Ursula Villa a solid foundation upon which to continue its tradition of academic excellence.