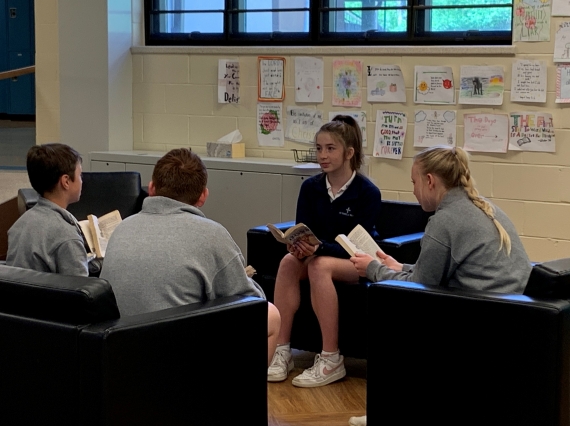 Highly-qualified experienced teachers specialized by subject
Strong team approach and collaboration among staff
Academically rigorous program with individualized student scheduling
Focus on study, test taking, time management, organization and note-taking skills
Emphasis on responsibility, independence, and leadership
Excellent academic preparation for acceptance at the high schools of choice
Daily religious education with opportunities for prayer, worship, reflection, retreats, and service to others
Preparation and reception of Confirmation at St. Peter in Chains Cathedral
Comprehensive language arts program in literature, composition, vocabulary, speech, and grammar
Public speaking and group projects
Pre-Algebra, Algebra, and Geometry in small, tiered, ability-based classes
Social Studies in American history and government
Science study of earth and physical science - chemistry and physics
Option of French, Latin, Spanish, or Communication Arts
Art, Physical Education, General Music and Music elective of Band or Choir
Opportunities for leadership and social development - Student Council, Chi Alpha Omega service outreach
Field trips, guest presenters, Eighth Grade Musical, and class trip
Homework Club and after school care available until 5:30 pm
Click here for Highlights of Seventh Grade
Click here for Highlights of Eighth Grade
What students say about St. Ursula Villa
To My Parents at Graduation:

Thank you for giving me the opportunity to go to the Villa. The Villa not only educated me but also taught me life lessons. The Villa taught me to always be kind to others and develop my leadership skills. This school also helped me to strengthen my relationship with God through attending and serving at school masses. I am also so fortunate that I got to be a part of Chi Alpha Omega to brighten people's day. I could not have asked for a better school to teach me life skills that I will take into high school.

To My Parents at Graduation:

Graduation is here and as the year is ending, I want to thank you for everything you have done for me. Thanks you for sending me to an amazing school, I have had the best experience ever. When I started in Kindergarten, I was a shy girl who didn't want to talk to anyone. Now thanks to the Villa, I feel like I am able to speak my mind and I have made so many friends here. Throughout my experience, I have learned so much and can honestly say I am prepared for high school. My favorite thing about the Villa is the welcoming environment and friendly atmosphere. Thank you for your support over the years. My experience at St. Ursula Villa has been great. Thank you for deciding to send me to this school!

To My Parents at Graduation:

From the first day you dropped me off at school here to the last day I was dropped off in carline, I have loved every minute, even second, of being at this school. Through the good times and bad times, I could not have been happier with your decision to send me to the Villa. I have met so many wonderful people and made a lot of amazing friends who have supported me, encouraged me, helped me, and who make me laugh on a daily basis. Throughout my eleven years at the Villa, the classes I have been put in have academically challenged me and lined me up for success in high school. The teachers have guided me, helped me become smarter, and helped me become who I am today. I am so thankful they have been part of my educational journey. Thank you for choosing the Villa!

To My Parents at Graduation:

Thank you so much for providing me with the blessing of going to St. Ursula Villa. In those ten years, I have not only learned so much, but I have met my best friends. My teachers and peers have nurtured me, inspired me, and made me who I am today. Ten years is a long time, but my ten years at the Villa flew by thanks to the fun times and experiences I have taken part in. Those include field trips, May Party, retreats, camps, and so much more. I am forever grateful for being able to go to a school that truly cares about my education. I have full confidence that the Villa has fully prepared me for high school. When I look back on my time at the Villa, I will remember how much I have been challenged, but also encouraged to always do my very best. At the Villa, I realize how much the teachers want the very best for us. Every teacher is passionate about what they are teaching and not only shape our minds but our hearts as well. My ten years at St. Ursula Villa have taught me to learn, laugh, love, and inspire.