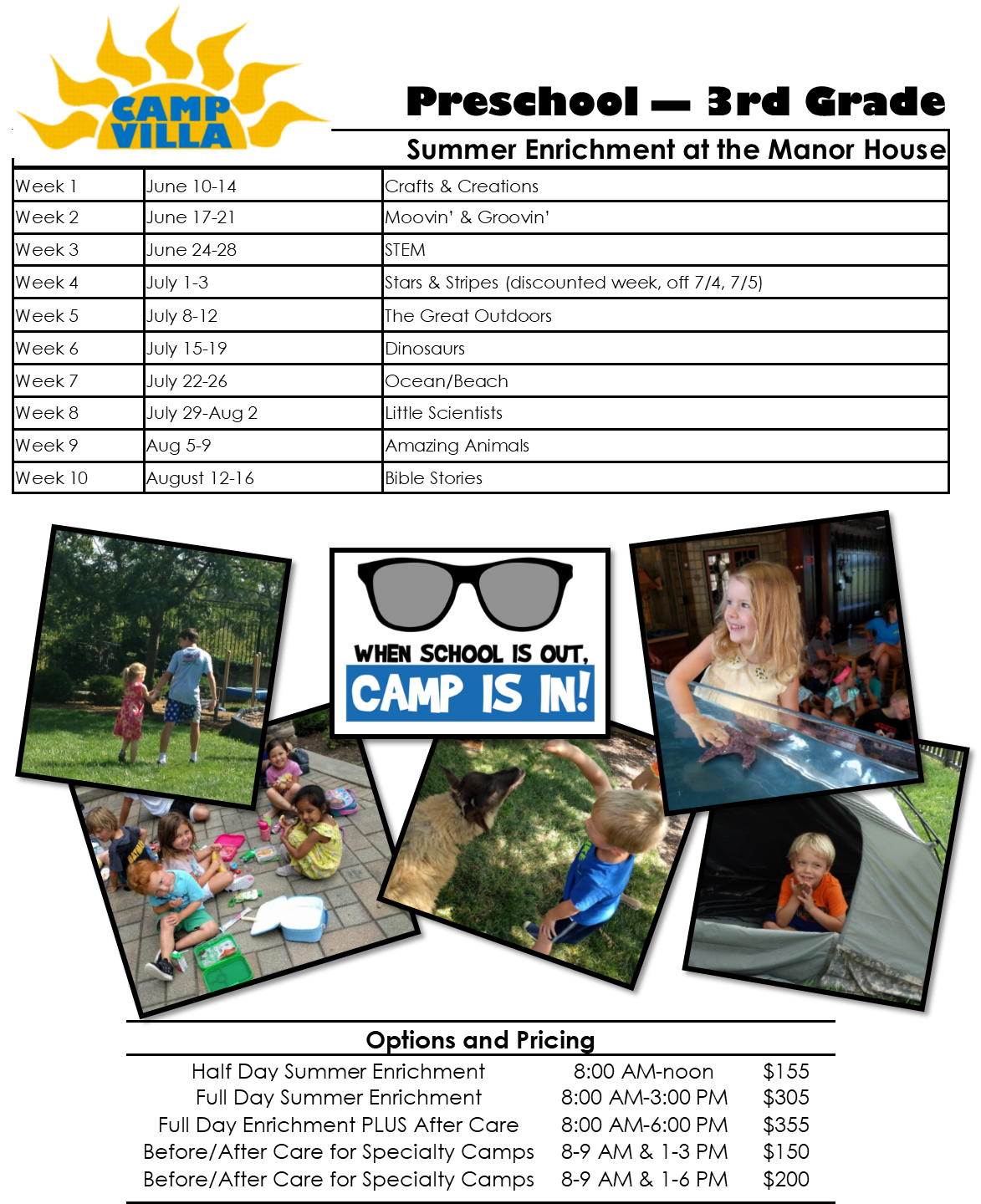 Click here to access the registration portal
Eligibility:
Incoming three-year olds (by 8/15/2019; must be fully potty-trained) through kindergarten. 1st-3rd graders are also welcome if childcare is needed, but may prefer the specialty camps in the morning. Many 1st-3rd graders join in at 1:00 after their specialty camp. Be sure to send their summer workbooks!
Location:
Manor House and grounds of St. Ursula Villa School.
Registration:
Registration will open February 6, 2019 and will be open throughout the summer. You can register for a week of summer enrichment up to the Wednesday before the week of camp!
Meals:
Snacks and drinks will be provided. Attendees must bring a nut-free lunch.
Partial Attendance:
There will be no refunds or reductions in fees for partial attendance or late arrivals/early dismals.
Discipline Policy:
Expectations for student behavior are in keeping with the policy of St. Ursula Villa during the school year.
Typical Daily Schedule
7:45-8:25……..Drop off at the Manor House
8:00-8:30……..Free Choice Bins
8:30-9:00……..Theme Time: Story/Group Lesson
9:00-9:30……..Activity/Craft/Game Related to Theme
9:30-10:30……Snack/Outdoor Time
10:30-11:00...Activity/Craft/Game Continued
11:00-noon…..Recess/Lunch (Half-Day Carline at 12)
12:00-1:30……Optional Nap/Rest Time (Nap Room)
12:00-1:30……Quiet Time: Puzzles/Books/Summer Workbook Help
1:30-2:30……..Outdoor Time
2:30-3:00……..Story/Closing Group Time (Full-Day Carline at 3)
3:00-6:00……..After Care (Outdoor Time w/ PM snack)
Contact Information:
For questions or additional information, please contact:
Lisa Wolfer, Director of Early Childhood and Summer Programs