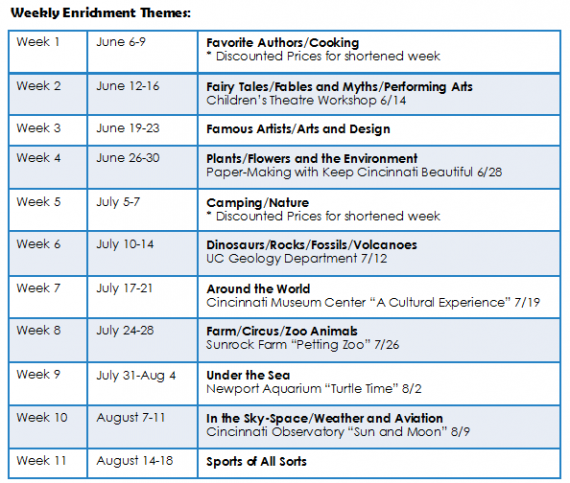 So many choices! You can select as many weeks as you would like, there is no minimum or maximum. You can choose from half-day, full-day, and full-day + After Care. You can also choose a specialty camp for the morning and then send them to an enrichment session for the afternoon for the full-day price (we'll handle the logistics). You can pay upfront via check or credit cardor pay as you go. The possibilities are endless!

* Incoming 3s are welcome to attend (must be potty trained)
Weekly Rates:
9 a.m. - 1 p.m. Monday-Friday $150.00
8 a.m. - 3 p.m. Monday-Friday $300.00
8 a.m. - 6 p.m. Monday-Friday $350.00
Location:
Manor House and grounds of St. Ursula Villa School
Meals:
Snacks and drinks will be provided. Attendees must pack a nut-free lunch.
Staffing:
This full-day summer program will be operated primarily by the faculty and staff members of St. Ursula Villa. Some familiar faces will be seen throughout the summer including Tricia Scherer, Susan Hall, Todd Gries, Cathy Plummer, Nicole Rouse, Debbie Ellis, Caitlin Sanders, Kaitlyn Malik, Abby Johnson, Rebecca Morena, Kathy Handorf, Angie Meisman, Sarah Streitmann, Chris Orr, Claire Shurmer, Ben Shurmer, and Kelly Dorger.
Partial Attendance:
There will be no refunds or reductions in fees for partial attendance or late arrivals/early dismals.
Discipline Policy:
Expectations for student behavior are in keeping with the policy of St. Ursula Villa during the school year.
Contact Information:
Lisa Wolfer
Director of Summer Programs
l.wolfer@stursulavilla.org
Tricia Scherer
Lead Summer Enrichment Teacher and Director of After Care
t.scherer@stursulavilla.org